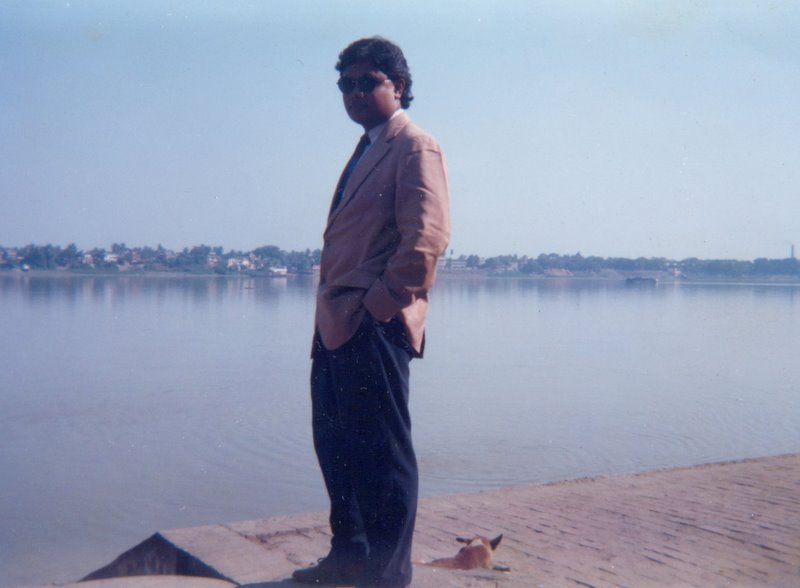 Me On the Ghats of River Ganga at Chinsura, West Bengal
Born on 11 11 1975 in a small Industrial Town of DURGAPUR, West Bengal, India. Later my parents moved to Bankura another small town in West Bengal for some years after my birth, where I grew up as a kid then we finally moved to Calcutta now Kolkata in the year 1983.
Associated with philanthropic activities since birth, as my father and mother both were workers of a social research oriented ogranisation namely William Carey Study and Research Centre which was established under the auspicious of Serampore College.
At the age of 10 I started a organization namely Jawaharlal Neheru Seva Samity - JNSS. Apart from that I also started a Library with my 3000 books namely Subash Library at my house remembering the Greatest Hero of our soil Netaji Subash Chandra Bose.

Human Resource Personnel for the development activities of women and child. at Liberal Association for Movement of People – LAMP.
Presently working as Hony. Secretary, CISRS - Centre for Ideological Socio Research and Study
Donated Blood at a Voluntary Blood Donation Camp at the age of 15 on 15-08-1991.
Pledged Eye Donation to the Eye Bank at Calcutta Medical College in the year 1993.
Pledged for Donating the Body to GANADARPAN a NGO in the year 2001.
Awards
1. Outstanding Youth Person of the Year by the North Calcutta Junior Chamber on 28-09-1997
2. Mahadeolal Saraogi Award by the Rotary Club of Calcutta on 26-09-2001
Attached with

Ramkrishna Mission Institute of Culture
Indian Institute of Public Administration – IIPA
Amenesty International -
India
Indian Red Cross Society
St. John
Ambulance Association
West Bengal
Voluntary Blood Donors Forum
Hony. Secretary, CISRS - Centre for Ideological Socio Research and Study
Exposure Visit to Bangladesh conducted by a Bangladesi Organisation namely UBINIG.
Indian Representative to the Expo 2000, Hannover, Germany on behalf of DISHARI – The women's Network of LAMP. DISHARI was selected under the Humankind Category at the Expo 2000.
2 month Exposure Visit to Germany under Exchange Programme on 2000 conducted by a German Organisation namely Deutsche Kalkutta Gruppe – DKG.
Visited other countries like Mayanmar (Burma), Maldives, Belgium, France, England (UK), Netherlands.
Written various articles, letters to the Newspaper and Magazine etc
Studied at :

National Institute of Public Cooperation and Child Development – NIPCCD, Govt. of

India

.

Xavier Institute of Management, Bhubaneshwar, Orissa

Jadavpur University

IGNOU

Annamalai University

SRFTI - Satyajit Ray Film & Television Institute, Kolkata.

FTII - Film & Television Institute of India, Pune.
Received blessings and wishes from elite dignitaries like Queen Elizabeth The Queen Mother, England. Vice-Mayor, Gladbeck Municipal Corporation, Germany, Then Indian Prime Minister Late Sri Rajiv Gandhi, Then Indian Prime Minister, Shri H.D.Devegowda, Then Indian President Dr. Sankar Dayal Sharma, Then CM Late Shri Jyoti Basu, Late Dr. Pratap Chunder Chunder, Ms. Maheswata Devi, Ms. Anita Basu (Plaff) daughter of the Great Leader Netaji Subash Chandra Bose, and many others elite personalites.
Do write me at mdewanji@hotmail.com \\ mdewanji@gmail.com
MANABENDRA DEWANJI
22/1B/3A, Ibrahimpur Road, Jadavpur, Kolkata - 700032,
West Bengal, INDIA.